On the 27th and 28th of June, the project partners of Digitech project met in Oslo for two-day meeting to kick-off face to face that project. The Norwegian Climate Network, coordinator of project, welcomed the partner organizations from Denmark, People of 2050, Romania, APEC, and Italy, Base3.
The meeting was opportunity for two days of fruitful work and cooperation aimed at building the best tools for Third Sector organizations willing to contribute the reduction of society carbon footprint on planet. Climate heroes, that want to create! Aware and educated professionals and volunteers of NGOs, associations, social cooperatives, and non-for-profit organizations who want to have positive impact on climate. The Digitech project aims at improving the competences of educators and other adult education staff by connecting them with apps and other technologies they can use to measure their carbon emissions in their future activities and projects.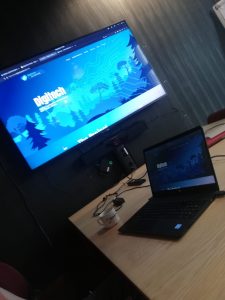 The meeting, partners had chance to visit presents the climate science and the climate heroes profiles at edutainment center of The Climate House. In line with the project objective and spirit, the first day of meeting was held at coworking space Sentralen which functions also as incubator for social projects.
Now the project is entering crucial phase with partners committed in development of DigiTech Guide and Web App that will represent very innovative tools for Third Sector Organizations. Keep following us online channels to stay updated and help us fighting climate change!